Tips on How to Choose the Right Carpet for Your Home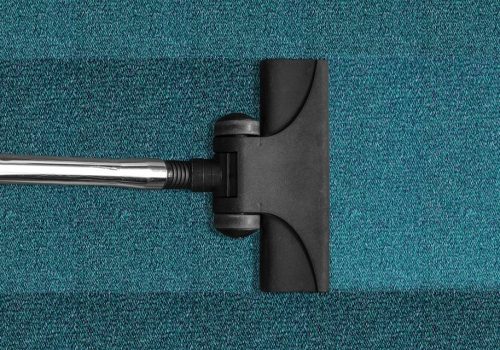 A carpet doesn't only cover the floor. It makes your home feel like home- it's difficult to put it in words, but the carpet you lay on your room somehow affects the way you feel about your residence.
Here are some tips that will help you choose the right carpet for your home in Nepal.
We Start with Knowing the Function
You don't lay carpet because you need to lay it. Also, you are not doing it because everybody else does it.
The thing is that you need to consider the functions of a carpet, and carefully analyze among them which is more important for you. Of course, we use carpets to insulate the floor, but they can also reduce noise, keep the room warm, decorate rooms, among others. Also, if you have or are planning to have kids and pets, certain carpets are comfortable and resilient at the same time.
Depending on the type of carpet, they serve various benefits. You need to weigh them out before making a purchase.
Fiber Type Is Another Necessary Factor
This is another thing you need to be aware of while you choose the right carpet for your home.
You can get wool, nylon, polyester, or olefin fiber carpets. Just like any other cloth materials, fibers in a carpet also affect the way they look and feel, and their durability.
First, let us discuss wool. Of course, it is very comfortable, cozy, and can keep the floor very warm in case your home is cold during the winter. Talking about that, here is an article where we share some tips to keep your house without an air-conditioner.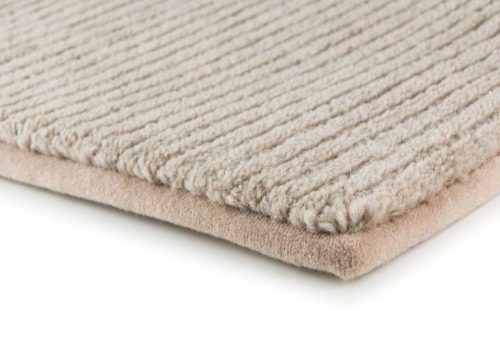 Wool Carpet (Source: ITC Flooring)
The woolen material can cost a little more than others, but it is very resilient and can stand heavy furniture. Nevertheless, you need to be careful with spilling things in it, because stain removal is difficult.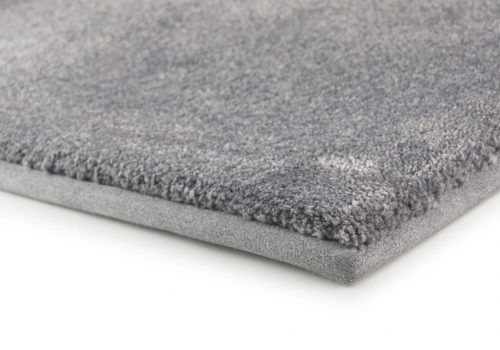 Nylon Carpet (Source: ITC Flooring)
On the other hand, nylon is durable, and cleaning stains, and maintaining it is very easy when compared to other materials. Also, it looks new for a long time. Anyway, it might not be as comfortable as walking in wool.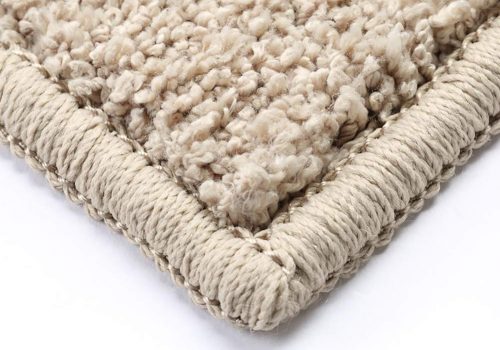 Polyester Fiber (Source: Amazon)
Polyester fiber isn't as resistant as nylon. But, it has brighter colors. The good thing about it is that most of the polyester fiber is recycled, so it scores good points on the ECO-friendliness department. Also, polyester is generally less expensive than nylon.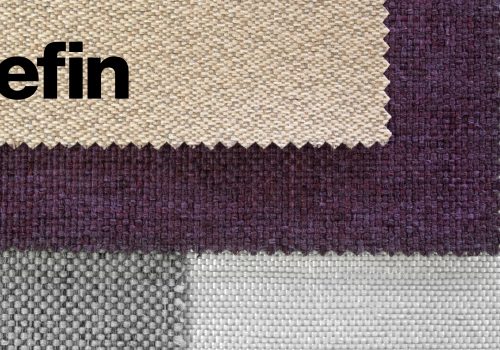 Olefin Fiber (Source: C and L Flooring)
Finally, olefin fiber is not very durable or fancy, but it is very much resistant to water and sunlight. It can't 'bounce back' after you compress it by placing heavy materials and furniture over it, but it still will save your budget. Moreover, removing stains is easy.
Most homeowners like placing olefin on the basement, stairs, storerooms, or other places where they need a carpet but not a fancy one.
There might be other fibers available- you can ask the shopkeeper about the pros and cons before buying it.
Construction is another Important Factor to See While You Choose Carpet for Your Home
The next thing we talk about is the carpet construction. It means the way the carpets have been woven.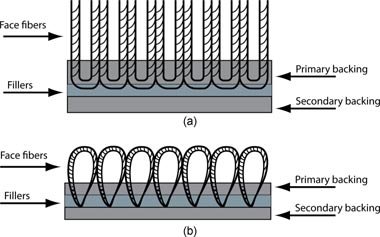 Photo Source: Researchgate
The first one is loop construction. It is durable when talking about placing things above it, but will easily tear when pulling. So, it might not be the best choice if you have a playful pet roaming around the house. Also, seams are easily visible (the line where two pieces of carpet meet), so you might want to make use of wider carpet pieces.
The next one is cut-pile construction. It is the most common construction type, and it can be friezed or high twist. It is highly resistant and tends to be softer than the loop one.
Some carpets maybe the combination of both, cut-pile and loop styles.
Generally, loop piles are less expensive than cut-piles. Anyway, cut-piles are stronger, smoother, and create a better visual appeal than the former.
Anyway, remember that we are only talking about them in general terms. Some loop styles can look better than cut pile and be smoother, and vice-versa. Well, you need to look at some samples before buying one. That's the best thing you can do.
Many recommend using cut piles on stairs.
Choose the Right Carpet Cushion (Padding)
The cushion can be of fiber, rubber or foam. It is the spongy part below the carpet which dictates how comfortable and resilient the carpet is.
You need to have firm padding, but at the same time, not make it very hard or too soft. Say a good rule of thumb would be 1/4 inch to 7/16 inches padding. On the other hand, if the carpet is low budget, making it thicker will make it hard, so consider no more than 3/8 inches thickness.
Remember, more the thickness, softer the carpet. The thickness also depends on the room. You can have thicker softer padding on bedrooms and lounge areas where there isn't a lot of traffic of furniture and people. On the other hand, a living room requires a thinner and firmer carpet.
Hard padding will make it uncomfortable, and softer one can be less resilient and easily tear. You must find the sweet spot for every area in your home.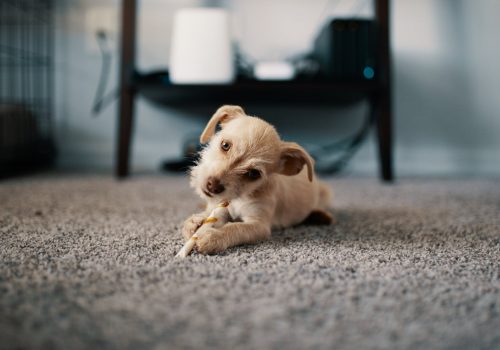 You Need to Work with the Shopkeeper
Especially with varieties and quality differences between manufacturers, you might find that the above points contradict with reality.
Well, choosing the right carpet is something you can only do with the example of real-world material. Our article is only guidance for you to know what to ask the shopkeeper while you choose a carpet for your home. So, keep the above points in mind and visit the store, and you will better find what you need.
Also, always be aware of the maintenance requirement. Ask the shopkeeper how often you need to clean the carpet after installing and how difficult it is to remove stains. Even if you have kids, a very soft material might not be the answer if it takes a lot of work to tidy it up.
That was all for this article. You can visit our blog section, where we have a plethora of useful suggestions, ideas, and tips for everything related to real estate in Nepal. Also, you can visit our listings for houses, apartments, and land for sale and rent in Nepal.